Dear Aspen
It has been six months to the day that I felt like I was in heaven.
I went on a journey for 9 months to start my battle on the 21st of January 2010 and only to be victorious 36 hours later. The victory was a release of the negative energy I received from doctors, friends and family over my decision to have my you at home. I had to be an advocate for you, my body and for all women who were told never to attempt a natural birth after a c section. Some days it was exhausting, I was in so much pain that a c section seemed easy, but I did it. I made it, we made it.
I laid on the hallway floor with you in my arms, daddy holding me and just embraced the moment. The calm that fell over me was amazing.
I hear people say that when you go to heaven you walk into love, that moment was the equivalent. I persevered in love, pushed in love, and today I hold you with love.
Aspen you are a constant reminder of how strong I am, how strong you made me, how heaven feels.
Happy Half Birthday my tooth fairy, I am so blessed to have you, more blessed to know you, and greatly blessed to raise you.
This Post was inspired my Mama Kat's Writers Workshop - Prompt no 4.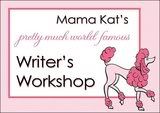 "How far to heaven? Just open your eyes and look. you are in heaven"-Shankar