Sitting in the car, wind blowing through my hair as I hit the bend at high speed. I pull out my pistol, climb out of the window of the car and drive using my feet. I aim for the back tire of the car I am chasing and shoot! The killers car comes to a halt and I jump back into my car and stop it, leaving skid marks behind. As the dust blows in the wind, I walk out in slow motion with the killer cuffed, in victory that I have solved the case.
This is a scene from my childhood dream. I remember always wanting to be a detective as a kid, yes I did want to be Michael Jackson's wife too, but I would then be his strong and fearless, gun toting 'Shebe,baby' of a wife. The gun fights and the mystery were what made being a detective so interesting to me. I loved the 'no uniform' code I saw on TV and the "perks" like getting to drive like a maniac and being one of the few people actually allowed to carry a gun.
Okay, so this was more of an obsession than a dream. I owned a few toy guns of my own and used to have high speed car chases with my mini cars. I mean, being a detective was the life! The best part was trying to solve the mystery. I used to come up with elaborate stories of murder and deceit, that only I could solve. It seemed like the ideal job to do.
But as I am sure you all know, these dreams often drift and I did not realize a few years later that my dreams had changed, not because I wanted them to, but because life changed direction.
So I sat on my couch one day, turned on the TV to
Mnet
and there I was reminded of my child hood dream, but now it was a more vivid dream and so much more sophisticated than what my child like brain had thought up so many years before. Okay, so he was not a woman and he was not even South African, but he was what I wanted to be.
They call him Grissom... Yes the very same Grissom from my much loved
CSI
. I was glued to the TV, not only because CSI is a great show, but because I relived my dreams in their weekly stories.The mystery, the guns, but now also the forensics, which kept me fascinated with every single episode.
CSI opened up something I had long forgotten about, a dream job I would still love to do. I could just imagine myself hunting down criminals and solving mysteries, I mean, how sexy is a woman with a gun? What a great feeling it must be to know that you have saved so many lives by sacrificing your own to track down these disturbed people.
There is however one thing I would be weary of, as Grissom was putting on strain toward the end of CSI Las Vegas, would I be able to withstand the stresses of dealing with these dark situations? Who Knows? One thing I do know is that I have to go to check out a forensic lab before I die.
This Post was inspired by Mama Kat's Writers Workshop Prompt No 3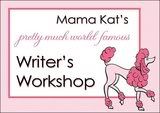 If you had made a career out of whatever you wee passionate about when you were ten... what would you be doing?